Have you heard of the One Room Challenge?  Linda from Calling it Home gathers together a group of bloggers and they have 6 weeks to finish your room.  Each week there is an updated blog post on how the room is coming along.    Every Thursday there is a link up and anyone can join in on the fun!   So, I've decided to jump in and link up, this will give me a good excuse to get a room done that's been a thorn in my side for a while.
If you have ever been to my house, you may have seen an orange glow coming from the top of the stairs.  That would be the upstairs kid bathroom.  The beige made that room so dark and dreary, I decided that painting it an orangeish yellow would brighten it up.  It was a mistake and I'm not afraid to admit it, on top of the color the paint I purchased was horrid to put on the walls so I won't be sad to paint over this mess that took 4 coats to cover and there was still beige peeking through.  Thank goodness I only paid $4 for the paint so at least it was a cheap mistake.
This one of the last pieces of oak left standing in our home and it's time for it to become another color.  That is yet to be determined but it's changing.  I wish I could put in a new vanity but this is a thrifty makeover.
The mirror is going to change along with the light fixture which makes the room dark because of the frosted glass.  Like my daughter's artwork?  She made a schedule for what hairdo she does on what day, I just love that,  she's a funny kid.
This room needs a change, a big change.  We have had this shower curtain for  a few years and the kids are getting older so maybe a 9 year old and 5 year old wouldn't mind something a little less toddler like as well.   I'm not consulting with them on what I'm doing so here is my vision.  I just took down a navy and white striped shower curtain in my master bathroom and I still love it.  So, why not reuse it?  There are not a lot of shower curtains out there that I love for a shared boy/girl bathroom.  Navy is more on the masculine side but using some gray and maybe some aqua, coral or green should brighten it right up.   I'm still undecided on an accent color but navy is for sure a winner right now.     The long wall will get some sort of treatment, more to come on that.    Here are a few inspiration images: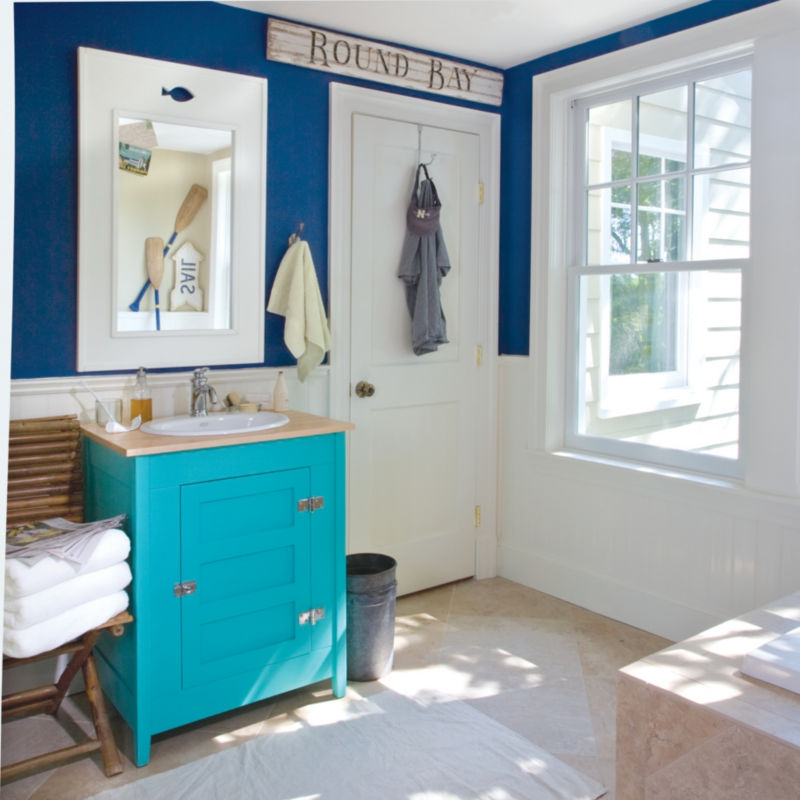 If you want to join in the fun you can link up with Linda from Calling it Home on Thursdays and participate in from your home like I am.  Be sure and check out all these great bloggers who are doing the actual One Room Challenge: